New Generation Publishing held their fourth Self-Publishing Summit on the 16th of January at King's College London, and Clays Self-Publishing were there, flying the flag for short-run printing. It was a truly informative and thought provoking day. See some of these thoughts below…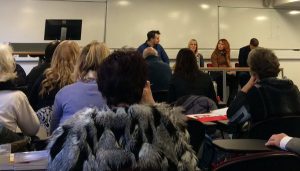 "There are so many different routes to publish" Jane Isaacs
The day kicked off with an opening panel of authors; Jane Isaacs who is traditionally published with Legend Press but who has also bought the rights back for her first novel from her American publisher; Roz Morris who is a successful indie author, editor, ghost writer and book doctor; and Samsun Lobe who independently publishes his fantasy fiction with New Generation publishing (you can find him at comic cons around the country).
As Jane Isaacs said, there are so many different routes to publish your book, which was reflected in the panel talk. The main discussion was on the route to market, how to get your book out there, and engaging with your readership.
Samsun Lobe is an expert at this. He writes fantasy and sci-fi novels, so what better place to reach his audience than comic conventions? The majority of the audience are there because they adore sci-fi and fantasy, and Samsun decks his stall out to attract attention and sells his books directly to these fans. He did however warn that running a stall at these events is not cheap and starting smaller is a good way of testing the success of such a venture.
This method works for Samsun but may not for many authors. A really easy way of reaching your target readership is to make sure your Amazon information is a detailed as possible, with keywords that will lead your readers to you! Roz Morris highlighted this: "Make your categories work!"
Top quotes from the panel:
"You are establishing a brand with a series" – Jane Isaacs
"Your cover is a sales tool" – Roz Morris
"Know who your audience are" – Samsun Lobe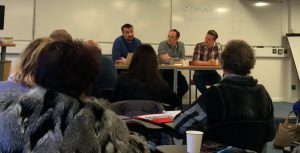 "This is a great time to be an author" Ben Galley
After a quick coffee break (to warm us all up), the next panel on How to Sell and Market Your Book began with David Walshaw from New Generation Publishing, Ben Cameron from Cameron Publicity and Marketing, and Ben Galley who is an author and PR/Marketing consultant for indie authors.
The panel highlighted what a great time it is to be an author, with so many available channels to engage with your readers and to promote your book. These include using social media, selling directly into schools, holding a launch night in your local independent bookshop, and so on. A great tip was to offer magazines content: if your novel was particular geared about one subject, write an article about that subject matter and advertise the book at the end. You are helping them and that magazine/newspaper space means, not only do you reach a wider audience, you should attract the readers who are enthusiastic about the subject matter!
A great piece of advice from the panel was to start local. Start at local events, approach your local bookshops, talk to local schools. You can then build on this engagement, but it is always better to have your local community behind you all the way!
Top quote from the panel:
"It is more important for the author to have a following than the book to have a following" – Ben Cameron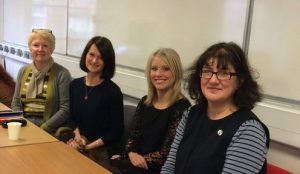 "Self-Publishing is a supportive, generous community" Debbie Young
To finish off the panels was a lively discussion on the Future of Self-Publishing! On this panel was Dr Alison Baverstock, Self-Publishing Expert and author of The Naked Author; our very own Rebecca Souster, Self-Publishing Account Manager who has guided over 200 authors through the production process; Brittany Poulin who is an Author Account Manager at IPR Licensing selling rights for authors in countries all over the world; and Debbie Young, indie author, editor and ALLi member who is also the editor of their Self-Publishing Advice Centre and blog.
Conclusion of the panel: the future is bright!
As the self-publishing sector matures, more and more guidance is out there for indie authors so they can make sense of the wide variety of options available to them. Dr Alison Baverstock puts this down to the self-publishing community sharing so much information, supporting fellow authors and celebrating success as a community.
There are also so many more services available to indie authors now. From printing a beautiful special edition hardback that gleams from bookshop shelves to selling their TV and film rights to a German production company, indie authors are successfully publishing and marketing their books to the highest standards.
Top quote from the panel:
"Self-publishing has become a badge of proactivity" – Dr Alison Baverstock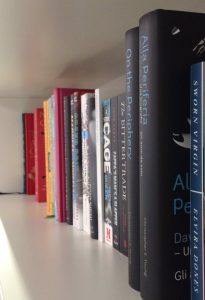 And what do we at Clays Self-Publishing think?
There has never been a better time to be in this section of the industry! It is expanding, forever changing and innovating which is why Clays invested into quality short-run printing.
Print is in, and independent authors can produce books that mirror the quality and materials of trade standard books, and sit next to them on the book shelves. And we love helping them do that.