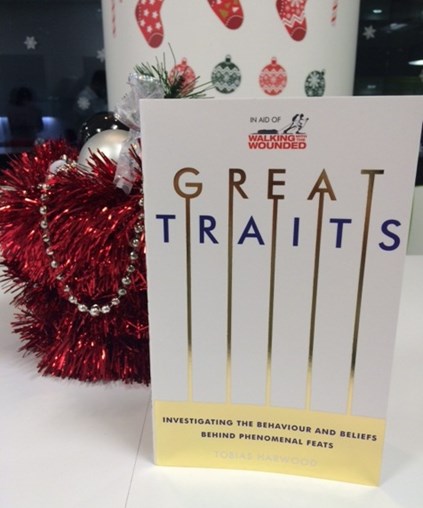 When Tobias first got in touch with Clays, we knew this project would be something special! Since publication date, sales of Great Traits have been fantastic and we thought it was about time to talk to him about his publishing journey …

Great Traits is a book about incredible individuals who have achieved remarkable things – what was the inspiration behind this?
Great Traits reveals the character traits that make successful people tick: passion, grit, competitiveness, boldness and a constructive consciousness. The book shares insights from three years of research and face-to-face interviews with business leaders, sports stars, record breakers and other incredible individuals to reveal the mindset behind success.
I was inspired to write the book after a rocket-propelled grenade attack in Afghanistan in 2009 left my childhood friend, Captain Guy Disney, as an amputee. Only eighteen months later, Guy had overcome his devastating injury to become a record breaking polar adventurer who reached the North Pole. Guy's remarkable achievement propelled me to devote three years to interviewing an array of remarkable individuals to reveal the ingredients that make them tick.
I am donating all the proceeds from the sale of the book to Walking With The Wounded. I hope that Great Traits will inspire readers to reassess how they behave and what they believe about their own potential.
How did you go about contacting and organising interviews with each of the people interviewed in the book?
I deliberately set out to interview a wide array of people from diverse sectors (business, sport, military, arts, explorers) because I wanted to find out what makes people tick regardless of their path in life.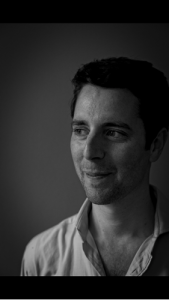 I secured the first interviews by asking everyone I know, 'who is the most remarkable person you know…and…can I interview them.' This led to meeting an array of fascinating individuals which in turn led to further opportunities to meet other interviewees.
The other approach was to write, email or cold call people who had compelling life stories. I meticulously crafted an email/pitch explaining my project, the charity benefits and politely asked for an interview.
Asking people to discuss how they have achieved great feats is quite a flattering premise. My success rate of approaching people was remarkably high. The key is, to pitch your question in the correct tone and be accommodating. The hardest aspect is securing the time and date for the interview with people who are invariably incredibly busy and ambitious.
From conception to the final product, how long was Great Traits in the making?
It took me at least 6 months to establish the belief that I could even attempt to write a book. I have a demanding day job in the world of investing so the window to write was narrow.
I'm naturally impatient so it was vital to set my expectations regarding the time frame to complete the project. To do this I formed a routine, set milestones and monitored my progress to ensure I didn't become disillusioned.
Overall, it took three and a half years from inception to the book launch, which was in line with my expectations.
Why did you decide to work with Clays on producing your book?
My objective was to raise as much money as possible for Walking With The Wounded and I considered going to a publisher versus establishing my own publishing imprint.
I was lucky enough to meet some senior people at a few non-fiction publishers but I realised I could make a significantly higher margin by taking the risk of publishing myself. An established publisher can offer wider distribution but the trade-off is a much lower margin for the author. I felt I could maximise the benefit for the charity by setting up my own imprint, even if I sold fewer copies because the margin was substantially higher.
Clays was the best option because I was adamant the book had to be printed and published to an exceptionally high standard. I didn't want any obvious signs the book was simply published by me. Using Clays was an easy decision because it game me access to the publication channels and infrastructure that established global publishers use and ensured the book was published to a professional standard.
Great Traits is now available in Waterstones which proves that if you execute well then self-publishing doesn't mean just selling to family and friends.
You have worked extremely hard to make sure that your book is a beautiful product, with foiling on the cover, a photographic section and a high quality paper – how did you go about making these decisions?
There is a monumental difference between a Word document and a published book. It is important to appreciate the specific elements of publishing…especially if you want to create something high quality.
I worked with MECOB to create a cover design with deliberately striking gold foiling on the front and back. Hewer Text were very efficient and professional as was my proof reader Helen Baggott. They all ensured the book was produced with a degree of professionalism and quality far beyond anything I could have achieved alone.
The delightful aspect of self-publishing is that you have a blank canvas and endless options (book size, paper type, paper colour, font, photos, cover design etc). While there are many established norms you can ignore them all.
The sales of your books have sky rocketed since publication, November 3rd. What are you doing in terms of marketing and publicity to drive this demand?
The sales of the book have been incredible. A second print run was required after just two weeks. Marketing and publicising your book is a constant task.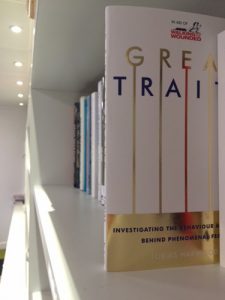 It is important to start pre-launch. I did this by selling tickets to the book launch via social media. We also approached consumer companies to donate raffle prizes.
A good way to engage with the mainstream media is to send them a pre-publication copy of your book. The key here is to ensure you have a compelling press release and you give plenty of lead time, some print articles take months to plan.
The night of the book launch Tatler published photographs of the event, a few days later I was interviewed on BBC Radio 5 Live which spread awareness. We also secured articles in The Times, Country Life, Director Magazine and various others.
Establishing coverage with mainstream media is hard. Look beyond national newspapers, tv and radio and be open to doing guest blog posts and articles for any online sources.
Social media offers a constant ongoing platform for marketing. It is important to keep up a relatively consistent flow on whatever social media you choose. Bear in mind the likely audience and your target audience. For example, Snapchat and LinkedIn will be of interest to very different people.
I use my website, GreatTraitsProject.com to publish one podcast per month to help advertise the book. The podcasts provides rich insights into the fascinating individuals who feature in the book.
I am also inundated with requests from companies, organisations, universities, schools etc. to talk about the book which is very flattering and which I am happy to do as it promotes the book.
What would be your one stand out piece of advice from your indie publishing experience to others embarking on the same journey?
Writing is a colossal test because it requires the fusion of creativity and imagination with iron will and self-discipline. Like any colossal test, it offers monstrous rewards.
My one stand out piece of advice would be:
The path to publishing your book will be more gruelling than you imagine. The rewards will be far greater than you imagine.
You can follow Great Traits on Twitter and check out their website!