The Guardian Books podcast this week focuses on the life of a paperback book from manuscript to market and beyond, including its birthplace in our factory in Suffolk!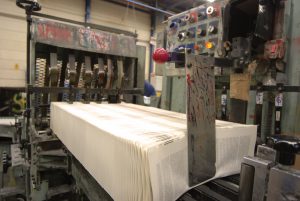 Chris Impey, our Customer Service Manager, talks through the production process of a paperback (with our presses whirring away in the background), taking the listener through the plate making process, litho printing, digital printing, binding and delivery.
The podcast also features Hodder & Stoughton's director of production Joanna Seaton discussing the editorial process; Waterstones fiction buyer Chris White on the decision making behind choosing titles for their shelves; Book Industry Communication's Karina Luke and Book Aid International's Simon Mercer explaining what happens to the books that aren't sold; the manager of Oxfam's specialist bookshop (Bloomsbury), Eleanor Rodda, talking through a book's 2nd hand life; and The British Library's Debbie Cox on the future of paperbacks.
Click here to listen to the podcast in full.